Spectrally Selective is better
Solar radiation on glass is expressed by its transmission, reflection and absorption. Thus, on a clear glass, Transmission is 83%, Reflection is 8% and Absorption 9%. This absorbed energy is re-emitted outward and inward via convection and re-radiation. Thus, 3% is re-radiated inward and 2% is rejected outward. Consequently, the Total Solar Energy Rejected is 10% and the total energy admitted is around 90%.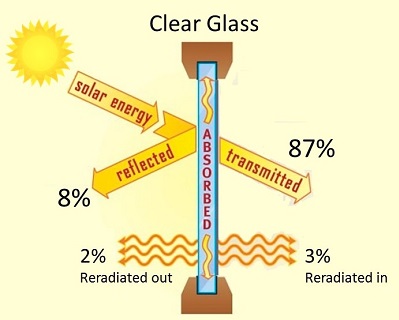 Spectral selectivity is the quality of having solar/optical properties which vary across the solar spectrum. This means the material allows a high transmission of visible light but a low transmission of solar gains. Spectrally selective window film is any film that reduces the amount of heat entering a building without altering its appearance. Most spectrally selective films are virtually undetectable to the naked eye, as they allow in at least 70% of visible light.
Spectrally selective films block a comparable amount of heat to traditional films without darkening the interior of the building. This eliminates the need for improved lighting which could cancel out any potential energy savings. Traditional films would darken storefront windows, while spectrally selective films would allow passersby to view the merchandise on display. Another advantage of spectrally selective film is that it can be applied to specific areas that receive a lot of sunlight without appearing out of place, whereas traditional films would need to be applied to the whole building for visual consistency.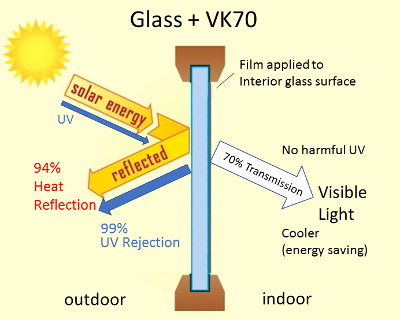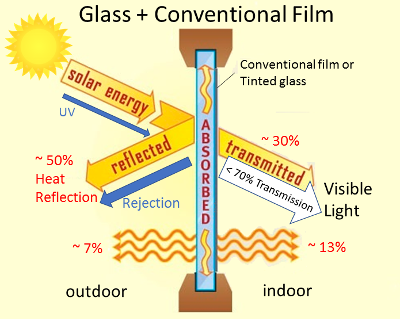 V-KOOL® is designed to replace retrofit tinted and reflective glazing or films and all other products that help control heat gain. Tinted glass or film cuts out the light while allowing infra-red transmission. Dark tints have high heat absorption rate that result in radiant heat and create thermal stress on the glass. Reflective glass or film works by equally reflecting all wavelengths across the solar bandwidth. Hence, to obtain better solar control, the visible light transmission has to be reduced and the visible light reflectivity will increase. In addition, reflective glass or film creates the 'one-way' mirror effect under certain lighting conditions. This means that views through these windows at night will be obscured because of internal reflection. It also becomes a safety and security hazard when applied onto car windows.
How does V-KOOL® lower electric bills?
V-KOOL® will reduce air conditioning operating costs while increasing the comfort level of homes, buildings and vehicles. V-KOOL® blocks off about 50% of the total solar energy gain through the windows. In addition, because V-KOOL® lets in more daylight than tinted or reflective films, home and building occupants will be able to reduce the use of interior lighting. Reducing the necessity for artificial lighting again reduces electricity cost.